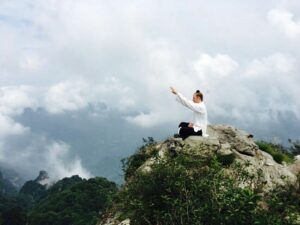 Master Liu is a 24th generation Daoist Priest of the Quan Zhen Long Men Pai with the title Cheng Yong 诚勇. Master of the Wudang Xuan Wu Pai in the 16th generation. He is the Headmaster of Wudang Temple Germany, headquarters of the German Daoist Association and Wudang Daoist Association Germany; and he is the first officially recognized representative of the Wudang Pai in Germany.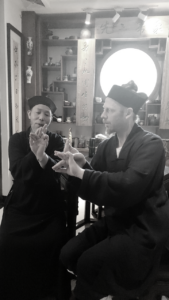 As the first Daoist priest in Germany, he teaches and spreads Daoism and Daoist practices and ways of life, and represents the German Daoist Association around the world.
Living in China for many years, he intensively studied and practiced Taoist ceremonies, talisman, rituals, music, healing arts, inner practice, etc. in addition to Wudang martial arts during his training. Its roots are in Wuhan Da Dao Guan, Nan Wudang Wu Sheng Gong, and others. He received teachings from Venerable Grandmaster Ren Zong Quan, Master Ke Wu Ming, Grandmaster You Xuan De, Master Zhou Li Can, and others.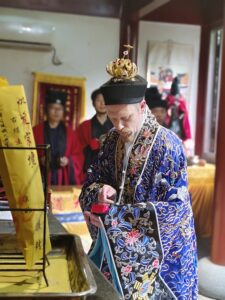 Universities and faculties around the world have invited Master Liu as visiting professor, guest of honor, representative of Daoist religion, etc., and he lectures at the world's most prestigious events of the Taoist community.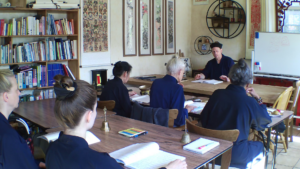 Author and translator of Daoist literature and classical texts such as the Dao De Jing, Qing Jing Jing, Xin Jing, the Daoist morning and evening liturgy, Wu Pin Xian Jing- 5 Immortal Scriptures (incl. San Guan Jing, Bei Dou jing, Yu Shu Bao jing), Daoist Internal Cultivation Vol1,2,3, Quan Zhen Zheng Yun-Daoist Music Vol. 1, Daoist Treasured Declarations, etc.
His works, Wudang – Daoism, Martial Arts and Culture; The Collection of Inner Verses; Yang Sheng – Nourishing Life; Daoism – 128 Questions & Answers; etc. are major works of German-language Taoist literature. Our publishing house "Yu Zhen Shu Wu 遇真書屋" publishes and sends Daoist books and translations all over the world. One of our most important projects is donations of Daoist scriptures to international Dao associations and practitioners so that everyone has the opportunity to learn Dao. Writings and translations by Daoist Liu in German and English are available from us.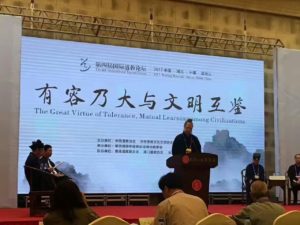 Master Liu has been practicing in martial arts and spiritual practice since childhood and soon began to pass on his knowledge to others.
In 2005 Master Liu founded the Wudang San Feng Wu Guan in Germany.
Since 2007 in China.
2013 Foundation of the Wudang Daoist Institute
In 2014, Master Liu established WU DAO SHU – Wudang Daoist Arts Research Institute
2016 Founding of the German Daoist Association e.V., Master Liu is the 1st chairman
In 2017 Master Liu founded the Wudang Dao Yuan in Germany
2017 Foundation of the first Lao Zi Daoist College in Germany
2018 Foundation of Wudang Pai Germany. Master Liu was appointed the official representative of the Wudang Pai (Xuan Wu Pai) in Germany by the head of the Wudang Pai, GM You Xuan De.
2019 Opening of the Wudang Temple Germany – "Yu Zhen Guan", the first Dao temple in Germany.
2019 Opening of the first Wudang Dao Yuan branch in Mexico, GDL.
2020 Opening of Lao Zi Daoist College Online Courses & Wudang Archives Online Training
2021 Publication of a total of 9 books in this year
2023 official initiation as high priest of the Quan Zhen School
For more information or questions please contact us by email at
info@daostudies.com
Fu Sheng Wu Liang Tian Zun – 福生无量天尊